Stylish Cabinets
for Beautiful Homes
1 Stop Cabinet Shop offers three distinct cabinet options to cater to different customer preferences and requirements.
Our In Stock Cabinets are crafted from high-quality 5/8th cabinet grade plywood, ensuring durability and longevity. These cabinets feature steel-reinforced corners and heavy-duty door slides for enhanced stability. The drawers are designed to support up to 100 lbs. and are made of solid wood for added strength. With dove-tailed construction, our In Stock Cabinets guarantee that they will not fall apart over time. Additionally, all our cabinets are equipped with soft-close drawers and doors for smooth operation. These cabinets are made from maple wood and are available in a range of stained or painted finishes.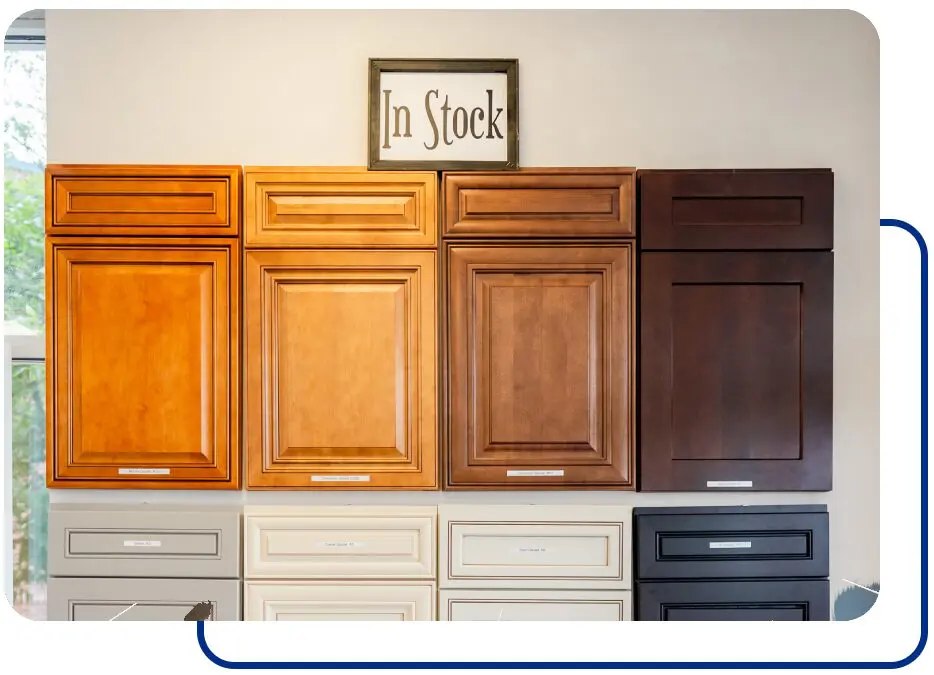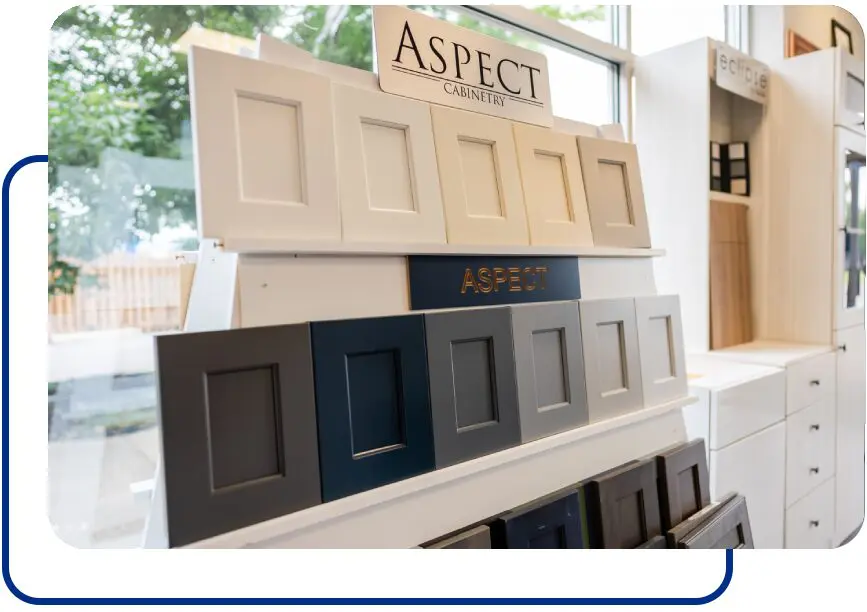 For customers seeking a greater variety of colors and door styles, our Semi-Custom Aspect cabinets are the perfect choice. Although priced slightly higher than our In Stock Cabinets, these cabinets offer an extensive selection of options without compromising on quality. With Aspect, you can mix and match cabinetry by selecting one of 16 door styles and pairing it with one of 9 paint colors or 3 glaze options. Furthermore, you have the flexibility to choose from 3 different types of wood, allowing you to customize your cabinets to suit your personal style and preferences.
Our Semi-Custom Shiloh cabinets provide an even greater level of customization for discerning customers. With Shiloh, you have the freedom to choose from an impressive range of 41 door styles. We offer a selection of 18 base colors for these cabinets, and if desired, they can be painted in any color available from Sherwin Williams. Moreover, we provide 7 glaze/highlight options and 5 glazes specifically designed for stained cabinets. To further personalize your cabinets, you can select from 8 different wood species. The Semi-Custom Shiloh option allows you to create truly unique and tailored cabinets that perfectly complement your space and design vision. At 1 Stop Cabinet Shop, we pride ourselves on delivering top-notch craftsmanship and providing a variety of options to meet our customers' diverse needs. Whether you opt for our In Stock Cabinets, Semi-Custom Aspect, or Semi-Custom Shiloh, you can rest assured that you are investing in cabinets of exceptional quality and style.